Bible Fellowship Classes (Sundays)
Bible Fellowship Classes are a great way to connect with other adults in the study of God's Word. Classes for adults are offered at 8:15AM, 9:30AM and 11AM.
FIND A BIBLE FELLOWSHIP CLASS
Sunday, 8:15AM
Agape Class - Adults of all ages, primarily adults over 55.
Ladies Only Class - Ladies of all ages
Sunday, 9:30AM
Open Door Class - Adults of all age.
Adult Bible study - Adults of all ages
Light To My Path Class - Adults with special needs
Bible Study for Spanish/English Speakers
Sunday, 11:00AM
Adult Bible Study - Adults of all ages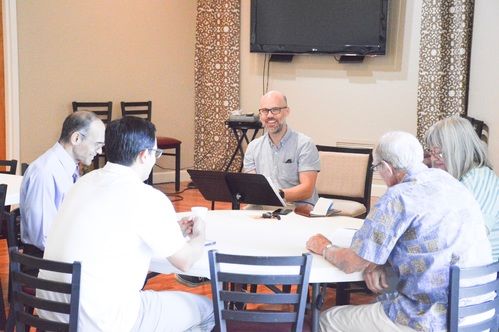 Kissimmee Christian Church offers a wide variety of adult elective classes on Wednesdays (August - May) at 10AM and 6:00 & 7:00PM. Our church family dinner is served before classes from 5:30PM until 6:15PM. The cost is $4 per person, $2.00 per child under 12, and $15 per family (up to 6 people). RSVPs are needed by noon on Monday. RSVP for dinner on the app or by phone at 407.847.2543.
2019 Fall Electives: August 14 - November 2010:00 a.m.
Christ Above All (Fellowship Hall) Jim Book
6:00 p.m.
Sign Language (210) Debbie Klahn
6:30 p.m.
Financial Peace University FPU (204) Tony and Connie Hamp
6:45 p.m.
Choir (140) Tony Cason
7:00 p.m.
Christ Above All (Fellowship Hall) Jim Book
Fight Club for Men (219) David Miller
Spanish Bible Study (217) Hector Nin
The Promise of the Patriarchs (210) Alan Tison
The Comparison Trap (Chapel) Tim and Diane Lytle
Activities for children and teens are also offered on Wednesday evenings. See
STUDENT
and
CHILDREN
pages for descriptions of our Wednesday night programs.