Bible Fellowship Classes (Sundays)
Bible Fellowship Classes are a great way to connect with other adults in the study of God's Word. Classes for adults are offered at 8:15AM, 9:30AM, and 11AM.
FIND A BIBLE FELLOWSHIP CLASS
Sunday, 8:15AM
Agape Class - Adults of all ages, primarily adults over 55.
Woman's Only Bible Study - Woman of all Ages
Sunday, 9:30AM
Open Door Class - Adults of all age.
Adult Bible study - Adults of all ages
Sunday, 11:00AM
Adult Bible Study - Adults of all ages
Young Adults Bible Study - Adults 18-25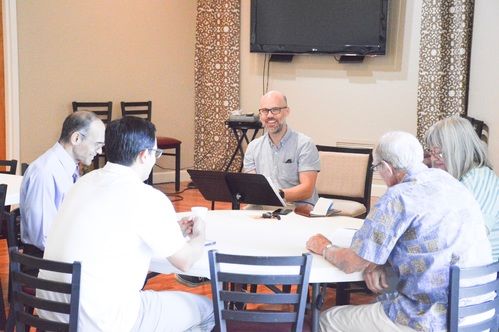 Kissimmee Christian Church offers a wide variety of adult elective classes on Wednesdays (August - May) at 10AM and 6:30 & 7:00PM. Our church family dinner is served before classes from 5:30PM until 6:15PM. The cost is $5 per person, $3.00 per child under 12, and $20 per family (up to 5 people). RSVPs are needed by noon on Monday. RSVP for dinner on the app or by phone at 407.847.2543.
2021 Fall Electives: August 11 - November 1710:00 a.m.
Elijah/Elisha (Fellowship Hall) Ross Pepper
6:30 p.m.
Financial Peace University FPU (Rm 204) Tony and Connie Hamp (9 week course)
7:00 p.m.
Studies in the Books of 1, 2 and 3 John (Room 140) Tom Martinez
Elijah/Elisha (Fellowship Hall) Ross Pepper
Faith Founded on Fact (Rm 210) Michael Chambers
Portuguese Bible Study (Chapel) Andrey Quadros
Exhale - Women's Ministry Study
Activities for children and teens are also offered on Wednesday evenings. See
STUDENT
and
CHILDREN
pages for descriptions of our Wednesday night programs.